by Divino L. Cantal Jr.
photos by Echo Luo
Journalists should ask themselves what the biggest and most neglected problems are in investigating issues, said Esther Htusan, an Associated Press reporter who won a Pulitzer Prize this year.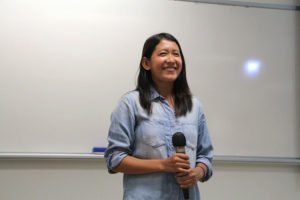 "If you want to be a journalist, you have to be brave," said Htusan, who was almost arrested for exposing land grabbing in her then-military-ruled country Myanmar.
Htusan's talk Thursday afternoon was part of a week-long Pulitzer Prize Winners Workshop organized by Hong Kong Baptist University.
She said that journalists, aside from being civic watchdogs, should investigate, research, dig, and interview people to uncover information and be able to write complete stories.
Htusan has encounterd hostile government officials while reporting on Myanmar's Rohingya, illegal logging and abused Burmese shrimp factory slaves in Thailand.
Htusan and fellow AP journalist Robin McDowell won the Pulitzer for their story on modern-day slavery, in which men were drugged, kidnapped, and forced to work in the seas of Southeast Asia under horrific conditions.
Htsuan also said that journalists are good agents of change.
"I didn't even know what Pulitzer was. All I knew is [that I needed to] make a change and difference in my country as a journalist. I want people to care about issues or wrongdoings around them. When you write or report something, you want people's reaction, and people will make change. When you make impact out of your reporting… it is better than a Pulitzer," she said.
"I think she is really inspiring as a young female Asian journalist. Her experience certainly lifted me up and I can see my future as a journalist, telling stories about my country [China]. I guess what I have learnt from her is never give up on things you feel passionate about, be persistent, and you'll get there at the end of the day," said Chen Xiaoyue, an MA student in International Journalism.