by Jourdan Ma
photos by Edith Lu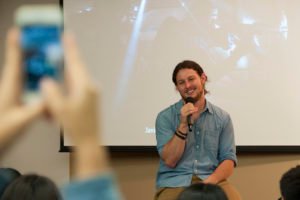 A New York Times videojournalist said he got his job by returning to the office after his internship was over.
Ben C. Solomon, who won the Pulitzer Prize for his reporting of Ebola, told potential journalists to cover stories on their own initiative.
"We want jobs. We want assurances. But the reality is the industry kind of changes. It's harder and harder to pay journalists," Solomon said. Challenges exist, but that does not mean people should wait.
"Just go out and make the best stories," he added.
Solomon said he has the responsibility to build understanding, and change how the public views wars and people in them. He also said combat footage requires good access to people, integration of journalist and soldiers, and luck.
His images show the progression of wars, and he said he wishes to show another side: People sit around talking, smoking cigarettes, then something happens, they have to react quickly, he said.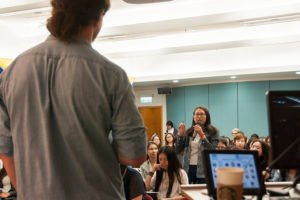 Covering issues including Syria and Ebola in West Africa, he has found characters who are well spoken and can show him something special and inspiring.
Solomon sometimes works alone, or in a small team for safety reasons. He recalled the time when he started out: The best experience was working with smart and experienced people.